It's so exciting that spring is here. It has been warm for a few days here and there this past month. I am hoping it is really here to stay this time! The hubs has been working on the outside of the house for weeks He is obsessed with mulch. Luckily our county does a free mulch program so we haven't paid for it but it sure does take a long time!
This is our first spring in the house so we are super psyched to see what pops up along the outside. The daffodils are up and the hydrangea are starting to bud with their leaves. I am a HUGE hydrangea lover (note the photo in my dining room taken by my dear friend)
We had them at our wedding and my mom gave us a bush as a house warming for our first house back in Boston. We transplanted it with us to first our rental house here in Arlington and then to this house. We planted it right in the front yard. It is a hearty little sucker! I can't wait for the flower blooms. I am definitely looking forward to seeing what else grows in our yard. I am NOT a gardener by any means but am excited to plant something bright and cheery in our front window boxes (major score from our previous owners!)
When we were looking at this house, I noticed a huge bed in the backyard with 4-5 hydrangea plants growing. I knew it was meant to be! Of course I have neglected to take pics of the outside greenery, but this is what I am dreaming of...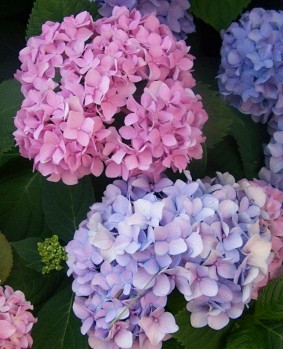 Look dreamy, don't they? I wonder what else will pop up!
Happy Spring!!